Brothers Henry Alfred Lugrin and his brother Alfred were both born and raised in 19th century Switzerland. By his late teens, elder Henry displayed a profound gift for watchmaking, already mastering the finer points of horology and movement engineering. He left for the United States and achieved fame working in New York as a master watchmaker and designer.
Not to be outdone, younger brother Alfred chose to remain in Switzerland, where he demonstrated an aptitude for complicated design of chronographs that many believed outshone his brother's skills. Younger Alfred's patented designs were brought to the attention of the house of Longines. In 1870 they purchased a patent license and the Longines chronograph inspired by Alfred the younger soon became a preferred timing device for many sporting events.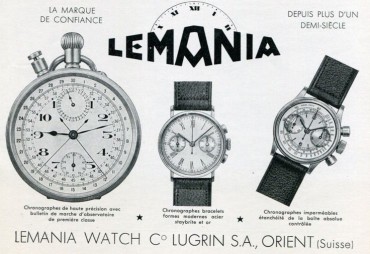 Younger brother Alfred continued to design complicated repeaters and chronographs, becoming known as a savant horologist who won numerous awards for design and implementation.
On March 12, 1918, Younger Alfred registered the name Lémania Watch and began producing technically advanced chronometers and complicated repeaters. By 1920, the company passed to Alfred Lugrin's son-in-law Marius Meylan.
During the early 20th century's golden age of speed and horology, Lemania produced some of the finest, most accurate race timers in the world. As finer jewelers sought to capitalize on the racing fever that had taken hold of the rich, they turned to specialized designers such as Lemania for racing chronographs.
We're pleased to offer such an example of just such a race chronograph, manufactured in 1927 by none other than the House of Lemania for Spikins of 123 Wandsworth High Street, London.
Housed in an equally impressive George Stockwell 51mm sterling case, the high-grade Lemania movement had a perfect "ice cream" dial marked "Spikins From Dent" & "Accuraspeed."
As evidenced by the movement's center-sweet chronograph and 30 minute lap/sub-second functions, the watch in all probability sold as a race timer for automobiles, boats, airplanes or motorcycles – or a combination of all. The watch would have been considered high-grade for the day and very well may have been special-ordered and custom-made for the client.
We have taken the liberty of cleaning, oiling and calibrating this work of horological art, as well as fitting in a period presentation box.
If you're looking for a fine timepiece to clock your vintage racers or wish simply to spoil yourself or a loved-one, look no further than this treasure.