Webster Clay Ball (October 6, 1847 – March 6, 1922) was a jeweler and watchmaker born in Fredericktown, Ohio. When Standard Time was adopted in 1883, he was the first jeweler to use time signals from the United States Naval Observatory, bringing accurate time to Cleveland.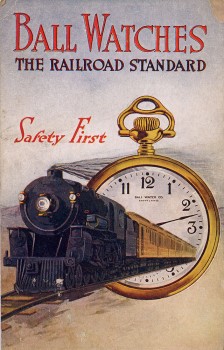 In 1891 there was a collision between Lake Shore and Michigan Southern Railway trains at Kipton, Ohio, which occurred because an engineer's watch had stopped. Ball had earned a reputation for perfection in timekeeping along the Cleveland routes and was an obvious choice for railroad officials as their first "Chief Time Inspector"; charged with establishing precision standards and a reliable timepiece inspection system for railroad chronometers nationwide.
Later, Ball established his own watch company dedicated to "the best of the best." Ball Watch Company ordered movements — to his exacting specifications — from highly-regarded watch companies in the U.S. and Switzerland. Specially-marked and damaskeened movements were ordered from top American manufacturers Elgin, Hamilton, and Waltham as well as from Swiss manufacturers Audemars Piguet, Gallet, Longines and Vacheron Constantin. These movements met the highest standards in commercial watchmaking and were quite expensive – and sought-after – even during their manufacture and use.
On February 10, 1907, the Brotherhood of Locomotive Engineers honored his efforts by appointing Ball as an honorary member.
Today, Ball Watch Company models are among the most prize railroad watches available.
We are pleased to offer this exceedingly rare 16 size, 23 ruby jewel Ball-Illinois with original tag, bill of sale and New York Central inspection card in what we believe to be its original box. Purchased in the depth of the Depression, it would have been the pearl of great price for some proud conductor or engineer.
Condition is very good, with perfect dial, factory hands and tight bow. It does not appear that the rich, substantial Ball railroad case has been buffed; only hand-polished. Both movement and case match bill of sale and tag. It appears the watch was both carried and inspected by employees of the New York Central Railroad line.
Of course we have taken the liberty of cleaning, oiling and calibrating this work of horological art so that it keeps time as intended.
If you are on a quest for a rare, high-jeweled railroad timepiece, a handsome thing with unique provenance which elevates it to the level of historical significance, you've found your treasure.