Gruen emerged as one of the pre-eminent watch houses in the United States, producing accurate timepieces in stylish cases that became Jazz-Age darlings. Watch houses sought to outdo one another, carrying the wristwatch as a fashion statement to ever higher levels, but none seemed to touch the panache of Gruen. Founded in the United States in 1876, the legacy of Deitrich Gruen is a benchmark for watch designers to this day.
We're proud to be known as purveyors of unusual vintage timepieces; fine specimens in an increasingly desirable sphere of interest. And, in the course of our evaluation of tens of thousands of watches, we've seen and offered many rare timepieces. However, of the thousands of watches we've brought to our clients, we particularly enjoy this rare men's Gruen. It's a most clever design, created in the warm glow of the Deco movement; when everything was shiny and sleek and curvaceous; when everything had that rocket man utilitarianism brought about, no doubt, by the pragmatism of German industrial influence.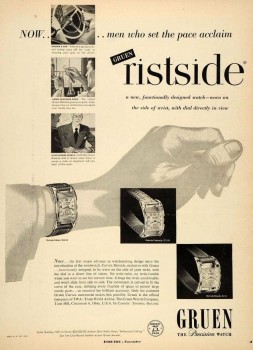 There's something intensely pleasing about this model and, for the life of us, we can't understand why so few of these pieces were produced by an otherwise prolific Gruen. Perhaps, like other grand things of the day, its life was interrupted by a pervasive, unrelenting WWII. Perhaps it was a special order and simply didn't make it to the masses. For whatever reason, this original Gruen Ristside Curvex - more commonly known to  collectors as the "Bat Wing" - with its impressive flexible lugs, sleek Chrysler building design and eccentric design is virtually impossible to find. And finding the nearly impossible is what we do.
Measuring an astonishing 50mm long by approximately 25mm wide, this elusive work of wrist art is in surprisingly good condition, from its fluted case with feathered lugs right down to its pearlescent dial. It is an elusive work of wrist art, hugging the wrist like a boat-tailed speedster hugs the road.
We have taken the liberty of having this beauty cleaned, oiled and calibrated so that it keeps time as intended. Also, we are enormously pleased to offer the piece in its own original factory presentation box.
If you're looking for an average timepiece, we're afraid this watch isn't for you. If you're looking for something no one else at the firm or country club
has, you've found your treasure!