Elgin Watch Company was a grand endeavor from the moment it was conceived in 1864. Smoke from the Civil War had not yet cleared and businessmen were already being lured from Massachusetts' Waltham Watch Company to organize and build a monumental watch factory in Elgin, Ill. By 1865 the company was organized and capitalized with half a million dollars, and unimaginable post-war sum. The company's leaders thrust themselves into the industrial revolution and were, in a few short years, running the biggest pocket watch company in the world. By the middle of the 20th Century they also dominated the wristwatch world, producing, among other popular models the "Lord" and "Lady Elgin" series distinguished by high-grade movements and progressive case designs.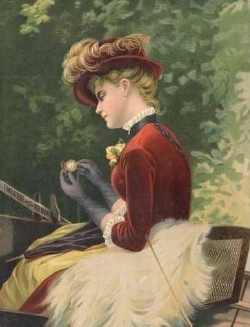 This Elgin hunter-cased Edwardian pendant watch would have been out-of-reach for anyone other than the well-heeled and as today, it would have been seen as a most impressive gift. Its solid 14k gold case features intricate tri-colored chasework of bluebirds tending a nest and the reverse a vacant rose-gold cartouche. Accompanying this work of horological art is a matching period slide-chain inlaid with seed pearls measuring 24 inches draped.
Its beating heart is a 15 ruby jeweled, solid nickel mechanical movement manufactured and hand-assembled in the Elgin factory in 1908. This masterpiece was among the finest timepieces of its day, as America dominated the world horological market during the era of its manufacture.
We invite you to take a moment to admire the work of the artist who engraved this case: Starting with a smooth, heavy case of solid 14k gold, he or she used a set of sharp graving tools to carefully carve a floral scene on the back. Note the different "brush strokes" of the artist: bold lines to outline the petals, tight lines for shading a half-a human hair apart — all to create an Edwardian garden scene that, if on canvas, would be just as mesmeric and soothing as it is carved in gold.
Measuring approx. 40mm in diameter and 57mm from bottom to top of bow, this work of horological art would be PERFECT to wear as a reflection of excellent taste or of the boundless love of the giver.
We're delighted to offer this triumph of Edwardian art in a period royal purple silk-over velvet presentation case.