Ah, the pride of the American Watch movement — the Hamilton Pocket Watch! Adored by railroaders and collectors the world over; treasured by those who know fine timepieces and hoarded by collectors; without question, Hamilton Watch Company of Lancaster, Pa. has emerged as one of the finest watch houses ever to build a timepiece. Around the world, the Hamilton watch is lauded for its innovative design, both functionally and artistically. Beginning their claim to fame as designers of Railroad Pocket watches with degrees of error measured within fractions of seconds a day, Hamilton went on to become major forces in the wristwatch line, hiring the brightest designers and engineers to oversee development of hundreds of original styles. Today, Hamiltons retain their spot as most favored timepieces among fashion artists and collectors.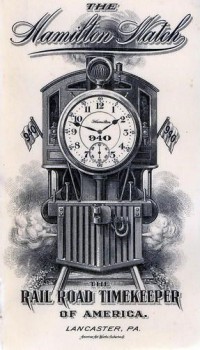 We're delighted to offer this absolutely magnificent work of horological art from one of the great American watch houses — Hamilton Watch Company of Lancaster, Pa. Known for their fervent attention to detail and solid engineering, Hamilton produced watches that instantly gained attention. This railroad grade example, with its oversized Arabic numerals, ultra-fancy blued hands and polished yellow gold-filled case would garner admiring glances from anyone lucky enough to see it. This timepiece would have cost several months wages during the 19th century and carried by a captain, engineer or other occupant of the social hierarchy.
Open the back of this venerable timepiece and you'll find a solid nickel 18 size lever-set 940 movement. Please take a moment and admire the damaskeening of this early Hamilton timepiece. Such watches are quite sought-after, as they represent the early mechanical prowess of Hamilton engineering, word of which spread first by word-of-mouth through shipping and railroad lines. With its special-order whip regulator, compensated balance and gorgeous plates, this watch is one of the finest American watches ever made.
Attached to this work of horological art is an equally impressive heavy yellow gold-filled railroad-grade watch chain and a most fascinating period fob of gold ore from either the Black Hills or California. It's such a fascinating thing, filled with the aura of skill, precision and mystery. Where did the gold ore come from? Is it a relic from Deadwood, or the owner's California claim? Where has this watch been and what events has it seen?
We've taken the liberty of cleaning, oiling and calibrating the treasure so that it keeps time as it was intended. If you've found yourself mesmerized by this art, I congratulate your excellent taste.
We're presenting the watch, chain and historic fob in its own custom-fitted case.