Without question, Hamilton Watch Company of Lancaster, Pa. has emerged as one of the finest watch houses to ever build a timepiece. Around the world, the Hamilton watch is lauded for its innovative design, both functionally and artistically. Beginning their claim to fame as designers of Railroad pocket watches with degrees of error measured within fractions of seconds a day, Hamilton went on to become major forces in the wristwatch line, hiring the brightest designers and engineers to oversee development of hundreds of original styles. Today, Hamiltons retain their spot as most favored timepieces among fashion artists and collectors.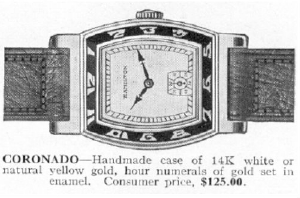 One could make no better fashion statement than to sport this classic and exeedingly rare American wristwatch: The "Coronado." A triumph of American's own Hamilton Watch Company, this solid 14k white gold model features a black enamel bezel and "tony" flexible lugs. Created during the heyday of bathtub gin and flapper madness, conceived at the end of the Jazz Age; this gorgeous timepiece has it all: a history of American horological achievement; a great Deco look, phenomenal condition and carefully restored reliability. In its day, it would have cost a fortune. How prized were these watches? Hamilton's advertising copy says it best:
"The 979 is Hamilton's answer to a genuine demand for the finest strap watch it is possible to produce … a watch that can be sold with confidence and worn with pride. Five superbly designed cases are now available in this series of the 6/0 size, 19-jewel Hamiltons, temperature adjusted; with highly polished ratchet and winding wheel and extra-fine flute damaskeening."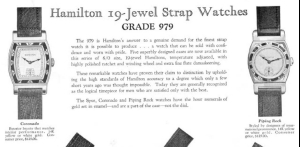 These remarkable watches have proven their claim to distinction by upholding the high standards of Hamilton accuracy to a degree which only a few years ago was thought impossible. Today they are recognized as the logical timepiece for men who are satisfied only with the best. 
The Spur, Coronado and Piping Rock have the hour numerals of gold set in enamel – and are part of the case – not the dial."
Measuring 43mm by 30mm; the case is so very pleasant that it draws the eye — with a jet-black enameled bezel highlighted by Arabic numerals; curved shape and hinged lugs. A wonderfully original dial, blued hands and graduated sub-seconds register further confirm Hamilton's design panache. We cannot overstate the originality of the watch itself: We have not even put a polishing cloth to the piece.
Open the back and you'll find not only its correct Lancaster, Pa. 14k markings, you'll also see a gleaming triumph of mechanical achievement: a gorgeous ruby-jeweled "979-F" movement, carefully restored; precisely balanced and ready to keep good time for its owner.
We have taken the liberty of fitting this horological masterpiece with an N.O.S. factory Hamilton pigskin strap with custom-made solid white gold buckle and offer it in a Hamilton presentation box.
Whether you're looking for the perfect wedding gift, a memorable birthday or Christmas gesture, or whether you simply want to contribute to someone's exquisite sense of taste, you will be forever pleased with this timepiece!