The present German submarine warfare against commerce is a warfare against mankind -- Woodrow Wilson  on April 2, 1917

Prior to WWI, "Submarines" or submersible vessels capable of carrying armament and personnel were considered relative folly, little more than ill-funded doodles and a few test dives – "Peripatetic Coffins" as 19th century detractors called them. Scores of men drowned or suffocated trying to establish a glimmer of undersea warfare legitimacy.
Still, disparate inventors from various countries held tight to that folly, contributing an idea here, a bit of luck there until the turn of the 20th century, when – seemingly overnight – the "folly" suddenly became both very real and devastatingly effective.
By the start of WWI, the Royal Navy had constructed an entire fleet of "submarines." In a span of a few decades, underwater combat vessels not only very much existed, they had progressed from raw manpower and pedal-propulsion to diesel motors capable of traveling 2,500 miles at 10 knots (19 km/h) on the surface and tolerable living conditions for a relatively large crew. They were also equipped with deck guns, torpedoes, ejection tubes and wireless transmitters. By WWI the idea of a submarine fleet was an absolute fact.
Then, in August 1914, a flotilla of 10 German U-boats sailed from their base in Heligoland to attack Royal Navy warships in the North Sea. While more submersibles than true submarines; WWI U-Boats operated primarily on the surface using regular engines and only submerged to attack under battery power. With that attack, Germany had conducted the first "submarine" war patrol in history. By the end of WWI, the U-Boat – that German manifestation of a submarine "folly" — managed to sink more than 5,000 Allied ships.
 "Enemy submarines are to be called U-Boats. The term submarine is to be reserved for Allied under water vessels. U-Boats are those dastardly villains who sink our ships, while submarines are those gallant and noble craft which sink theirs." – Sir Winston Churchill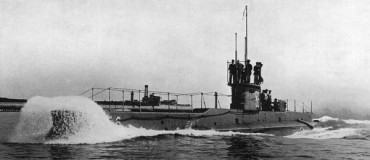 HMS E-31 WWI Submarine
HMS E31 was a British E class submarine built by Scotts, Greenock, Scotland; laid down in December 1914 and commissioned on 8 January 1916.
She had a displacement of 662 tonnes and a total length of 180 feet; with a beam length of 22 feet, 8.5 inches. Powered by two 800 horsepower Vickers eight-cylinder two-stroke diesel engines and two 420 horsepower electric motors, her maximum surface speed was 16 knots and submerged speed was 10 knots. Like all in her British E-class, her diesel fuel capacity of 50 tons gave her a range of 3,255 miles at 10 knots and allowed her to operate submerged for five hours at 5 knots.
HMS E-31 was fitted with a 12-pounder forward of the conning tower. She had five 18 inch torpedo tubes: two in the bow, one either side amidships, and one in the stern. She carried a total of 10 torpedoes.
E-Class submarines had wireless systems with 1 kilowatt, later upgraded to 3 kilowatts. Her maximum design depth was 100 feet, although there were reports that E-Class ships reached depths of below 200 feet.
She had a complement of three officers and 28 men and was state of the art.
One of her shining moments was on 4 May 1916, when a Zeppelin was spotted by light cruisers HMS Galatea and HMS Phaeton, both of whom opened fire on the airship. Just as they were doing this HMS E31 – who was pacing these ships at the time – surfaced and spotted the airship but being vulnerable on the surface, dove to avoid attack. When she surfaced again and raised periscope, she observed that (Zeppelin) LZ 32 was hit by the British cruisers and was losing altitude. HMS E31 had surfaced just in time to fire the downing shot of the Zeppelin. She then proceeded to rescue seven survivors from the crew of German Zeppelin LZ 32.
As cutting-edge as she was in 1916, by 1922 she was considered obsolete by the British Navy and scrapped to avoid her falling into adversarial hands.
E'en do bait and spare nocht: "In what you do, spare nothing" – Clan McGregor motto
The Watch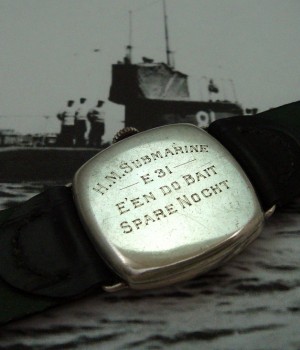 This original, cushion-shaped wire-lug presentation wristwatch in solid sterling silver associated with HMS E31 measures approximately 36mm lug-to-lug by approximately 32mm wide.
The incuse mark JF shown in the image is the Swiss trademark of Jean Finger, Fabrique des boîtes de montres, a watch case making company in Longeau, Berne, Switzerland.
The case has Glasgow Assay Office import hallmark for sterling (•925) silver, the date letter is the Roman font lower case "c" of the Glasgow hallmarking year that ran from July 1925 to June 1926. The sponsor's mark, the incuse mark "J * W", was entered at the Glasgow Assay Office by J. Veron Grauner & Co. of Geneva.
The porcelain dial, hands, crystal and silver case are completely original. We have chosen not to polish the piece, rather to leave it as found. Its dial is marked "Ollivant & Botsford/Manchester," a well-known; well-respected Manchester jeweler, diamond merchant, clock and watchmaking firm founded in 1789 by Thomas Ollivant. Botsford joined the firm in about 1855; the shop remained "Ollivant & Botsfort" until 1951, when it was acquired by Mappin and Webb. There are examples of the firm's work in the British Museum.
We do not know to whom this watch was originally presented. It would have been an expensive, prestigious and exceedingly thoughtful gift when given or awarded. As the watch appears to have been crafted, imported and possibly sold in 1925, it might have been presented to one of the WWI captains of E31, Ronald William Blacklock, who was promoted to Commander in June of 1925. He was Lieutenant in command on E-31 from Feb '17 to July '18 and the only commander to have been mentioned in dispatches and received honors for submarine service. Engraved "HM Submarine E 31/E'en do Bait/Spare Nocht". The watch might have been given by the captain to first mate or by members of a crew to someone quite deserving associated with the submarine or its service to His Majesty.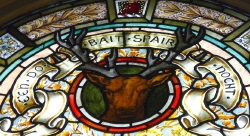 We have taken the liberty of cleaning, oiling and calibrating the mechanism as well as fitting this historic work of wrist art with a custom-crafted black cordovan strap and hand-wrought sterling buckle in the manner of the period. The timepiece is offered in a custom-made burl hardwood presentation box.
We encourage anyone who might have more or better information about this horological treasure to contact us with anything that might enlighten us, as we are keen to know as much as we can about the watch and HMS E31.